As the weather warms up, it's time to get out and play. Where are the most family-friendly locations in Frederick County? Check out this short list of the best parks in Frederick, according to visitors:
Online quote
According to Google Local Guide Johnson Tien, Baker Park is "the perfect place in historic…[Downtown] Frederick to spend…quiet time with friends, family, your pet, or simply by yourself." Baker Park is Downtown Frederick's pet-friendly, 58-acre park that features a carillon, bandshell, tennis courts, softball and baseball diamonds, Culler Lake, a public swimming pool with locker rooms, and playgrounds. Outdoor events are held year-round, including musical performances and children's theater. Annual events include Frederick's Fourth in July, the Summer Concert Series, and numerous recitals. If you're looking for a more quaint space to take a book and sip coffee, check out Memorial Park across the way on North Bentz Street.
Located between Tuscarora High School and Ballenger Creek Middle School in Frederick County, Ballenger Creek Park is cited as "a very well maintained park" and "an incredible place with a great atmosphere" by its visitors on Google. Its sports amenities include a lighted baseball diamond, soccer fields, horseshoe pits, a .7-mile nature trail, playgrounds, and volleyball nets. A WiFi-enabled community building, grills, picnic shelters and tables, and small and large dog parks are also available for more family fun.
This park in Frederick County features two smalls pavilions with grills and picnic tables, as well as a playground and walking and biking paths. Visitors say it's a "very beautiful park to walk your dog in" and a great place to walk "or run or [bike] or [take] children for a stroll," according to Google.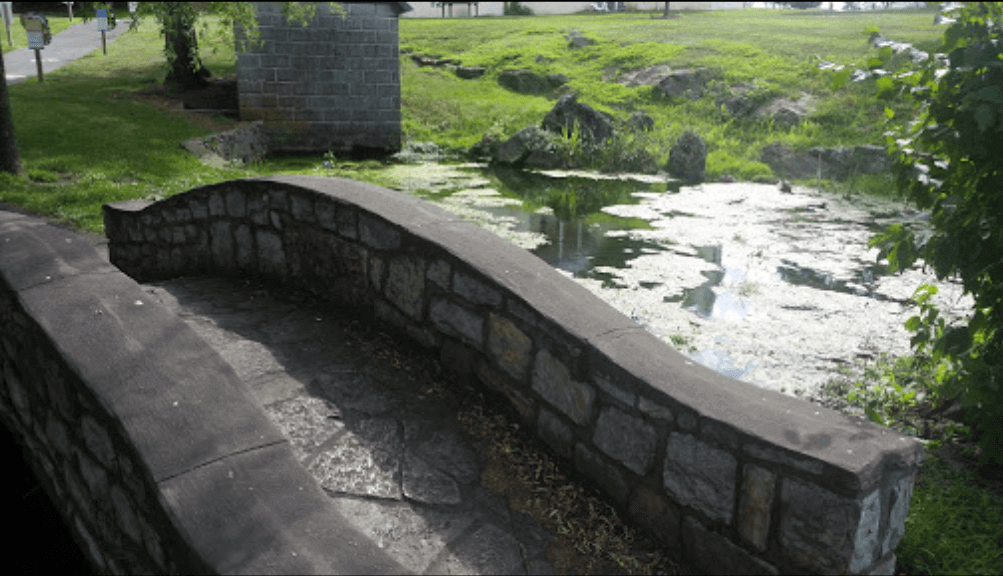 Known as a "beautiful place to take [kayaks] and canoes" and "a great place to relax and have fun" according to reviews, Pinecliff Park is in Frederick County near Lake Linganore. Features include softball fields, shelters with picnic tables, playgrounds, a camping area, volleyball nets, horseshoe pits, a boat ramp with access to the Monocacy River, and more.
Located on West 10th Street in Downtown Frederick, Staley Park features a community outdoor area with grills, baseball diamond, volleyball net, water fountain, basketball court, playground and fenced-in tot lot, and picnic shelter. It's close to Frederick's YMCA and frequently hosts outdoor yoga classes and Little League games.
This park in the city of Frederick has plenty of parking and bathrooms, according to visitors. The open field area is near a basketball court, baseball diamond, playground, walking and biking paths, a water fountain, and a pavilion with picnic tables — perfect for family-friendly events, like reunions and birthday parties. Like Google Local Guide Christopher Chandler said, "Get out and play!"From Lake Linganore to Downtown Frederick, this Maryland county is full of outdoor spots to spend the summer. Whether you're looking for sports courts and fields or a rentable picnic area, Frederick County parks has it.
Experienced
Stress Free Moving
Packers You Can Trust
A Trusted Family Busines
Want a Free Estimate?
If you would prefer to have an estimator call you directly,
please fill out the form below