Whether you're into visual arts or a hands-on experience, Frederick County offers a plethora of fine art galleries in downtown.
Online quote
Delaplaine Visual Arts Education Center
Arguably the most famous art gallery in Frederick County, the Delaplaine is located on South Carroll Street. According to its website, "Housed in the 100-year-old Mountain City Mill on the banks of Carroll Creek…The Delaplaine Arts Center has been serving the community since 1986." The space welcomes more than 85,000 visitors annually and features the following amenities:
Multiple on-site galleries, showcasing regional and national artists
Multiple spacious studios, housing classes and workshops for all ages
Etchison Davis Library, one of the largest, free art references libraries open to the public in Maryland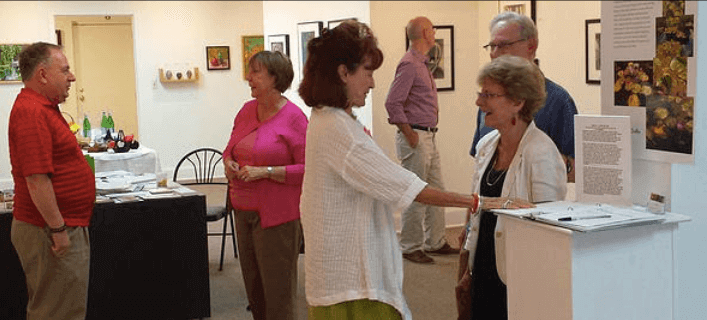 The Artists Gallery (TAG)
Located in the heart of Downtown Frederick on North Market Street, The Artists Gallery displays a variety of exhibits that cover everything from abstract and realistic to experimental mixed media and traditional throughout the year. Established in 1990, TAG is "an artist-owned organization" that "features high quality original art for sale in its monthly solo exhibits, as well as ongoing group exhibitions," according to its website.While work typically rotates between photography, sculpture, painting, mixed media, drawing, and ceramics, specialty exhibits are displayed during the annual Box Show.
McGuire Fine Arts Gallery & Framing
Located on East Patrick Street in Downtown Frederick, McGuire Fine Arts Gallery is a 20-year veteran of the arts community. According to its website, "The gallery hosts a range of events, including gallery exhibitions featuring internationally acclaimed artists," such as Dr. Seuss, Sabzi, Brian Davis, Mick Williams, William Cochran, and more.Aside from featuring "traditional and contemporary works of art from local and nationally recognized artists," the gallery also specializes "in archival custom framing by a Certified Picture Framer, handcrafted jewelry, home decor, and unique gift items."
Square Art Gallery
Located on East Church Street in Downtown Frederick, Square Art is an artist-owned gallery that "features the square art of local artist Pepi Khara," according to its website. This small art gallery in Frederick is open by appointment and on select weekends at the artist's discretion. The best part about Square Art is that visitors can quietly catch Khara painting in the front room of the gallery or teaching an arts workshop in the tranquil backyard.Boasting work from local and nationally acclaimed artists, the art galleries of Frederick County are sure to be a fun experience for family and friends.
Experienced
Stress Free Moving
Packers You Can Trust
A Trusted Family Busines
Want a Free Estimate?
If you would prefer to have an estimator call you directly,
please fill out the form below